Domino's — the kings & queens of pizza?
Domino's is arguably one of the most well-known pizza brands in the world. Domino's stores across the globe sell an average of 3 million pizzas a day, they operate around 16,500 locations in 85 countries and they have more than 400,000 franchised and corporate team members worldwide. In 2018 their global retail sales reached $13.5 billion, of which over half came from outside the US ($6.6 domestic, $6.9 international).
In Iceland, the country where Meniga was founded back in 2009, Domino's has for long been the slice of choice for most homes. The current finance minister of Iceland was even once quoted in an interview saying that Domino's pizza is the one thing that unites all Icelanders. Whether that's true or not, Domino's has a jaw-dropping 65% market share of all pizzas sold and 37.6% of all quick-service restaurants in Iceland.

Those numbers are even more impressive when considering that Iceland is a notoriously hard market for international fast-food chains to break into. Domino's has been the exception. McDonald's, Burger King and Dunking Donuts have all come and gone. But that love for Domino's doesn't extend to the rest of the Nordic bloc. In October 2019, Domino's Pizza Group, which owns stores in Iceland, Norway, and Sweden, announced it's exiting its business in those markets.
Recently leading publication CNBC worked with Meniga on a video article where they covered developments at Domino's worldwide, with a focus on Northern Europe. Data in the article was provided by using Meniga's Consumer Analytics Platform — an intelligence platform based on real-time transactions (see more about the platform below). In the article, CNBC poses the question of whether Domino's is continuing to stand strong or actually on a fast decline in the Northern European market. See the video here below.
Watch the CNBC video article
Market Insights based on transactions — as a service
Meniga's award-winning digital banking platform enables leading financial institutions to build meaningful customer engagement and new revenue streams. One solution that has received a lot of interest from banks, merchants and, press in recent years is our Consumer Analytics platform.
The platform aggregates anonymous transaction data, compliments with 3rd party data such as merchant directories, to provide a whole array of interesting market insights such as market share development, average check size, demographic information, and rankings of who are the biggest players in each sector. Information many banks are considering offering to their business customers as a service.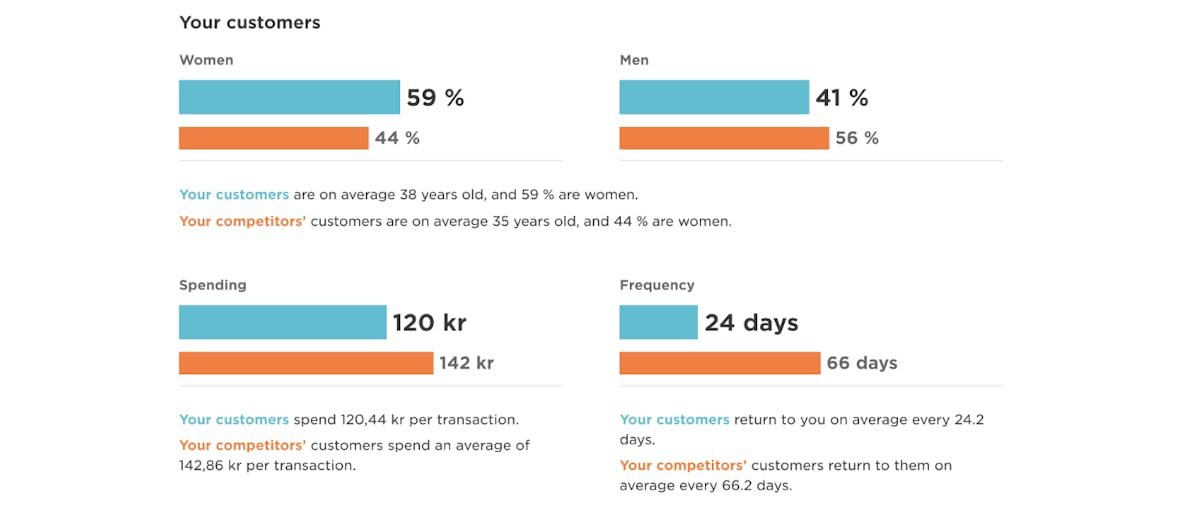 About CNBC
CNBC is the number one business and financial news network on the planet. Their mission is to help the influential and aspirational to make astute decisions to get ahead. CNBC International ensures no matter where you are you can keep up to date with the latest breaking business and financial news.
With international headquarters in London and Singapore, we provide you with the perfect 24-hour global business briefing. From the start of trading in Asia, through the Closing Bell on Wall Street, our fast-paced, hard-hitting business coverage makes CNBC essential viewing for any senior business leader.