Many have changed their purchasing behaviour to reduce the carbon footprint of their personal consumption. However, it is challenging for regular people to find out the most efficient ways to reduce their personal footprint.

The ultimate digital banking win-win
Banks have a unique opportunity to help people understand their carbon footprint and take action to minimize it. As we will see, there are many upsides for both banks, their customers, and Mother Earth — a truly global win-win situation if there ever was one.

Should I reveal how much I drive my SUV?
There are many sophisticated online calculators where users can insert information about their lifestyle and habits and get an estimation of their carbon footprint. However, only highly motivated people will go through the effort of data input. These calculators mostly offer one-off data entry so their users will have a hard time seeing how their carbon footprint is trending over time. Then there is the question of whether people remember (or want to report accurately) how many miles they drive, how much meat they eat, or how often they purchase fast-fashion clothing.

Preaching to the choir
Users of manual calculators are probably already highly aware of the need to reduce their environmental impact. Many of them have already taken action and need no further education or inspiration to reduce their carbon footprint. To make a global impact, the people who think it is too daunting to track, reduce, and offset their carbon footprint need to be shown how easy it can be to take action.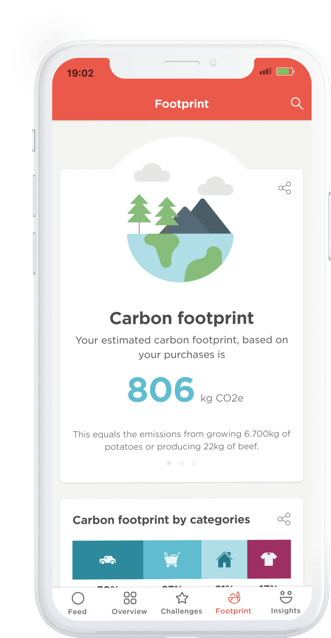 Reason 1 — Empower your banking customers with information
Banking apps are already in our pockets; their use is essential (and growing) part of our daily lives. It is easy for a bank to automatically invite their banking app users to track their estimated carbon footprint from private consumption automatically.
Banking transactions tell the real story of peoples' private consumption. These transactions can be matched against a carbon index, which estimates their carbon footprint. A banking app can show an estimate of the carbon footprint resulting from private consumption. Although a carbon index can only show an estimation of a person's carbon footprint, at least the manual work and guessing associated with manual input is no longer necessary. There are many engaging ways to show carbon data to banking app users. Here are a few examples:
Break down the carbon footprint by spending categories
Highlight carbon-heavy transactions
Users can compare their carbon footprint with their peer group
Show how individual carbon footprint is trending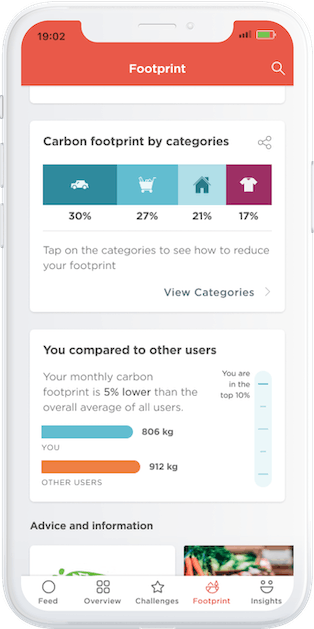 Reason 2 — Build banking app engagement by enabling high impact personal action
People who have felt powerless and anxious about the environment can start to take high impact action and build better habits. Banks can increase the engagement rates of their apps by showing carbon data in innovative apps and invite people to take action.
Use challenges and show people how they are progressing in reducing their carbon footprint. Your bank can soon start to electrify its customer base by telling them about how carbon emissions have been reduced through simple individual action by your customers. Another way is to invite your banking app users to offset their carbon footprint by supporting high-impact projects like those that are available on the UN Carbon Offset Platform. We at Meniga are proud to have partnered with the platform, we enable users of our cashback rewards platform to donate to the platform.

Reason 3 — Supercharge the CSR strategy of your bank
Banks around the world contribute to important social and environmental projects. The challenge is bringing these projects to life for customers and society at large. By inspiring people to take action based on their individual carbon footprint, the bank can highlight its environmental projects to customers and invite them to participate in them. This opens up many new ways to build a sense of community for customers.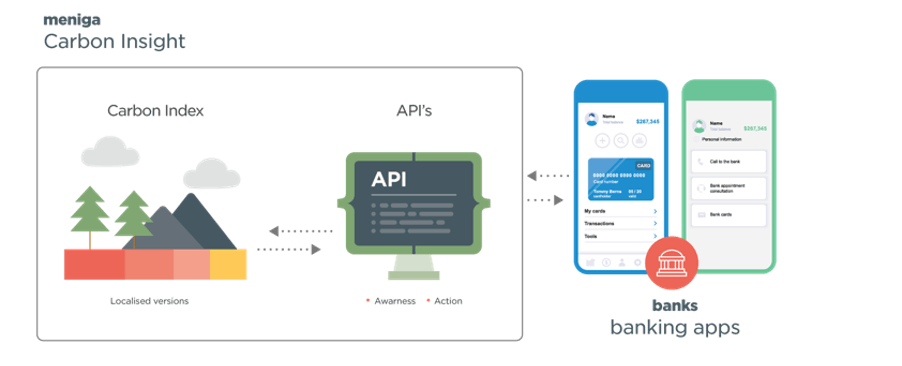 Reason 4 — Build your green financial product portfolio
Banks around the world are developing new and innovative green products. These are various financial instruments that are certified for only investing in environmentally sound projects, funds or companies. Your bank can highlight these products to users who are engaging with carbon data or features in your banking app. This is a clear opportunity to differentiate your bank from the rest of the pack.

Reason 5 — Save the planet
There is no planet B so we better take good care of the one we got.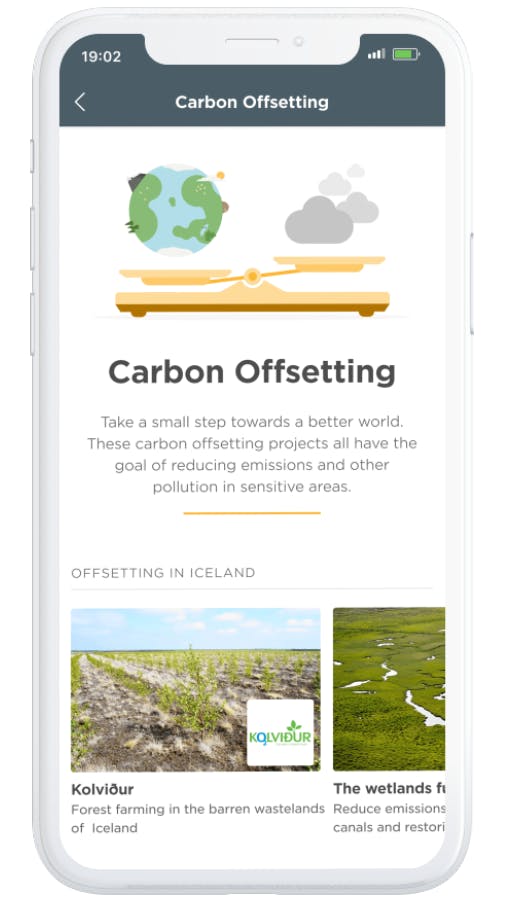 How is Meniga helping banks benefiting from the carbon data opportunity?
Meniga has created Carbon Insight, a new innovative product that enables banks to show customers their carbon footprint and engage them based on that data. Carbon Insight consists of the Meniga Carbon Index which estimates the carbon footprint of transaction categories, the simple to use Awareness API which delivers the carbon footprint of transactions to banks, and the Action API which, you guessed it, enables users to offset their carbon footprint.

Let us know if you would like a demo of Carbon Insight. You can also download the brochure which shows how banks can use carbon data to engage their banking app users.