As yet another busy year comes to an end, I'd like to use this opportunity on behalf of all of us at Meniga, to thank you — our clients, partners, and friends — for your continued support. I'd also like to share some of our highlights from 2017 and reflect on what opportunities 2018 will bring for digital banking.
2017 was a major year of growth for Meniga as we welcomed more new customers than ever before in our 8 year history. We feel extremely privileged to be the innovation partner of many of the world's leading banks and help them make digital banks more personal and engaging, and evolve beyond simple banking into a full-fledged virtual financial coach. 2017 also saw the opening of our office in Warsaw, to meet the increasing demand for Meniga's data-driven digital banking solutions. Warsaw is our fourth location after Reykjavik, Stockholm and London.
In June, we announced the expansion of our partnership with Islandsbanki, one of Iceland's leading banks, where they replaced all their loyalty programs with Meniga's Card Linked Offers (CLO) program, allowing Islandsbanki to provide their customers with personalised and relevant cash-back offers with local merchants. The offers are tailored to each user's spending history so they only get offers from stores they already shop in or from similar stores that want to compete for their business by offering deep introductory discounts. Our CLO offering currently reaches over 30% of households in Iceland and is achieving market leading metrics both in terms of offer conversion rate as well as in user and merchant satisfaction.
As you may have noticed, we underwent a bit of a brand overhaul this year. We are committed to continuous improvement, and so analysed user behaviour to redesign a simpler user interface, added new features and enriched our product. We are very proud of our new logo, visual language and our next-generation "financial fitness" functionality inspired by health apps like Fitbit and Strava! We also rolled out a brand new app for iOS and Android and a new website, and were recognised by the London Design Awards for outstanding brand design experience.
For the third time, Meniga was the only Personal Finance Management provider on the prestigious Fintech50 list. The 2017 White Bull Summit in Barcelona also named us the winner of the 2017 Bull Awards, which recognise excellence in product innovation, leadership and performance in the technology space. We are particularly honoured to have been named the leading European technology company for excellence in the PFM Robo Advisory Category.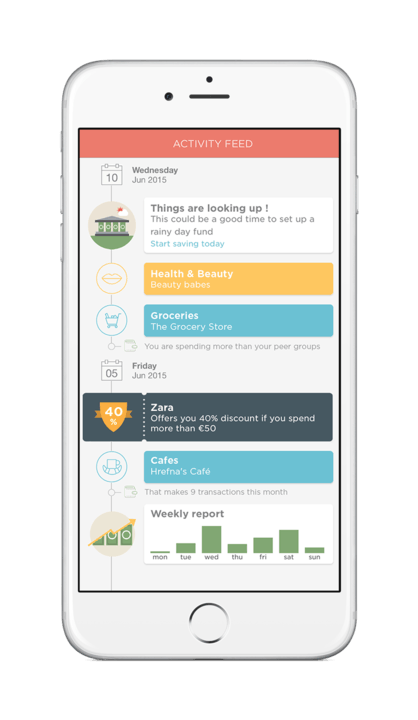 Looking ahead to the future, the world of open data in banking is fast approaching as PSD2 and Open banking take effect. PSD2 is arguably the most disruptive event to hit retail banking in decades and continues to be the principal driving force for innovation in digital banking in Europe. For some banks, the regulatory overhaul can seem daunting and insurmountable, but at Meniga we see these changes much more of an opportunity than a threat. We continue to help our clients and partners understand that creating insights from data is a core element in banking strategies to create meaningful, long-lasting engagement with your customers. That's how we can turn the challenge of PSD2 and Open banking into a success in 2018 and beyond, and we'll be with our customers every step of the way.
Happy Christmas!