Introducing Meniga Dialog: a personal engagement platform for banks
Advanced data analytics and personalised customer care for next generation digital banking
10 February 2016 –Finovate, London — Meniga today introduced Dialog, a new way for banks to engage with customers using highly personalized advice and product suggestions. See the on-stage presentation at Finovate 2016.
Using machine learning and big data analytics, Dialog provides deep insights into customers' behaviour. Banks can then offer rich deeply personalised conversations through any channel of communication to deliver useful and relevant information and support. Banks can improve their customers' financial health by offering appropriate and timely advice at a personal level.
"Our solutions lend a true competitive advantage to banks that they can pass along to their customers," said Georg Ludviksson, CEO Meniga. "Until now, there has not been an effective way for banks to pair up the information they have with the needs of their customers. Our solutions provide rich insights into customers' needs at the right time, to remove guesswork and deliver a major improvement in customer experience."
Dialog will suggest products that are relevant to the customers' changing life circumstances. For example, someone who is spending a lot on rent but has substantial savings and solid income can save money by buying a home instead of renting. The bank can automatically help this person by promoting relevant mortgage options at the appropriate time.
"As a result of our deep experience working with the Spanish market and our close relationship with Meniga, we believe personalisation is the key to the future of digital banking," says Rut Prada, director of innovation at Santander Innovation Group.
Traditional CRMs are one-dimensional, not triggered by the customer's real life circumstances and do not offer an appropriate channel for a bank to engage with their customers. They require labour-intensive analysis of customers' situations. By aggregating data and applying machine learning, banks save time and money and provide a far more relevant user experience to their customers.
Dialog integrates seamlessly with Meniga's award winning Personal Finance Management solution and mobile app. For more information visit www.meniga.com.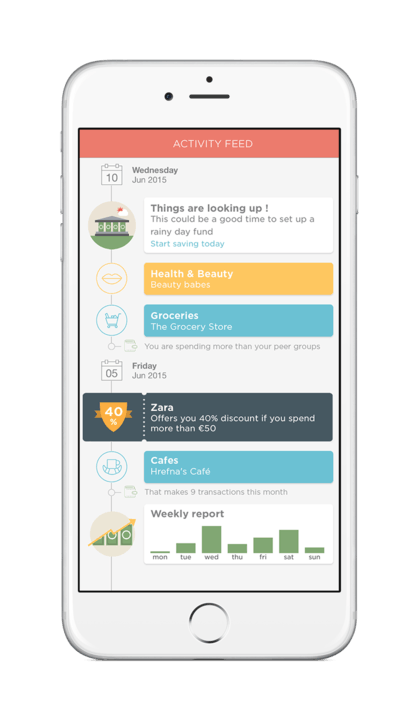 About Meniga
Meniga is the European market leader of white-label Personal Finance Management (PFM) and next-generation online banking solutions. Our software reaches over 35 million online banking customers across 17 markets. Meniga's award-winning solutions help retail banks across the world dramatically improve their online and mobile banking user experience. Meniga helps millions of people think about and engage with their finances by providing data driven PFM solutions. Through Meniga's PFM-driven marketing, consumers, banks and merchants engage with highly relevant and contextualized offers from merchants. Meniga was awarded "Best of Show" in 2011, 2013, and 2015 at Finovate Europe, Europe's most prestigious financial technology conference. Meniga was founded in 2009 and is headquartered in London, UK.