Autumn is upon us and that means just one thing. It is time for the fantastic FinovateFall conference in New York. At this signature event for the fintech and banking industry, the Meniga team will unveil a new way for banks and businesses to create value with transaction data. Make sure you catch our demo on the 23 of September and visit us at booth #19.
if you are in the area, please get in touch for some good conversation!
Inspire and get inspired
Finovate is always a huge event for us here at Meniga. Not only do we get a chance to be inspired by our customers and get the inside scoop from fintech luminaries. We are also able to finally share the latest of our innovations. This year will be no different. Without wanting to give away too much, it will all be about how banks and companies can use transaction data to create tremendous value and help to save the planet (!).
See our big moment
As always, our big moment will be the Meniga demo on stage. We have only seven minutes to showcase our latest innovations. This time it will be challenging to stick to the time limit, we have so much to share. Last year, we were honored to be awarded the 'Best of Show'. Our partners at Tangerine bank share a lot of that honor since they helped demonstrate how enriched transaction can drive meaningful engagement for their banking app users.
Don't miss our demo in slot 1 around 10 am on day 1.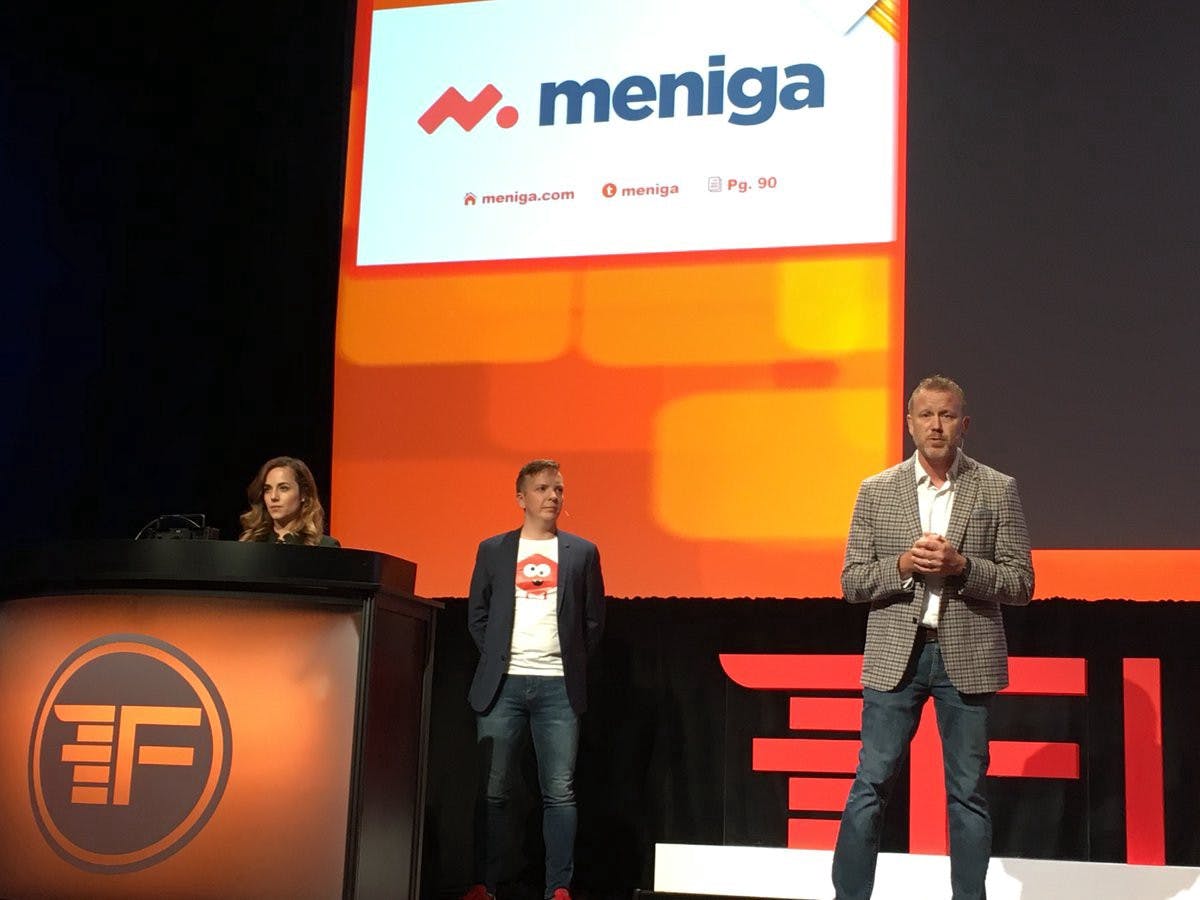 Meet us for some great conversation
We look forward to seeing you at booth #19 for some great conversation, demos, and inspirations on how to take fintech and banking into the future. You are more than welcome to stop by and get more information about our innovations but we are especially interested in hearing what you think about our approach to creating value from transactions.
Follow us on social media and join the conversation
Follow us on Twitter and Linkedin for updates from FinovateFall. We would love to hear from you there too.
Past honors
We have had the honor of being awarded 'Best of Show' at Finovate Fall in 2018 and Finovate Europe in 2011, 2013, 2015 and 2018.
if you are in the area, please get in touch for some good conversation!
About FinovateFall 2019 in New York
FinovateFall 2019 takes place from September 23–25 at the Marriot Marquis hotel. It is attended by 1500+ key influencers, investors & VCs, analysts and members of the press. 74 companies demonstrate new innovative solutions on stage. Expert speakers on banking, payments, regtech, wealth management, AI and customer experience share their insights.