Bezons, 15 April 2020 — We're really excited to announce our newest partner: Worldline, the European market leader in payment and transaction services. The collaboration is aimed at increasing digital customer engagement through the creation of personalised banking features.
For banks and financial institutions, looking to retain and attract customers through user-friendly and secure payment solutions is one of the biggest challenges of the Open Banking era. Through this strategic partnership, Worldline and Meniga will collaborate to provide customers with next-generation financial tools by combining personal finance management with conversational banking and data analytics.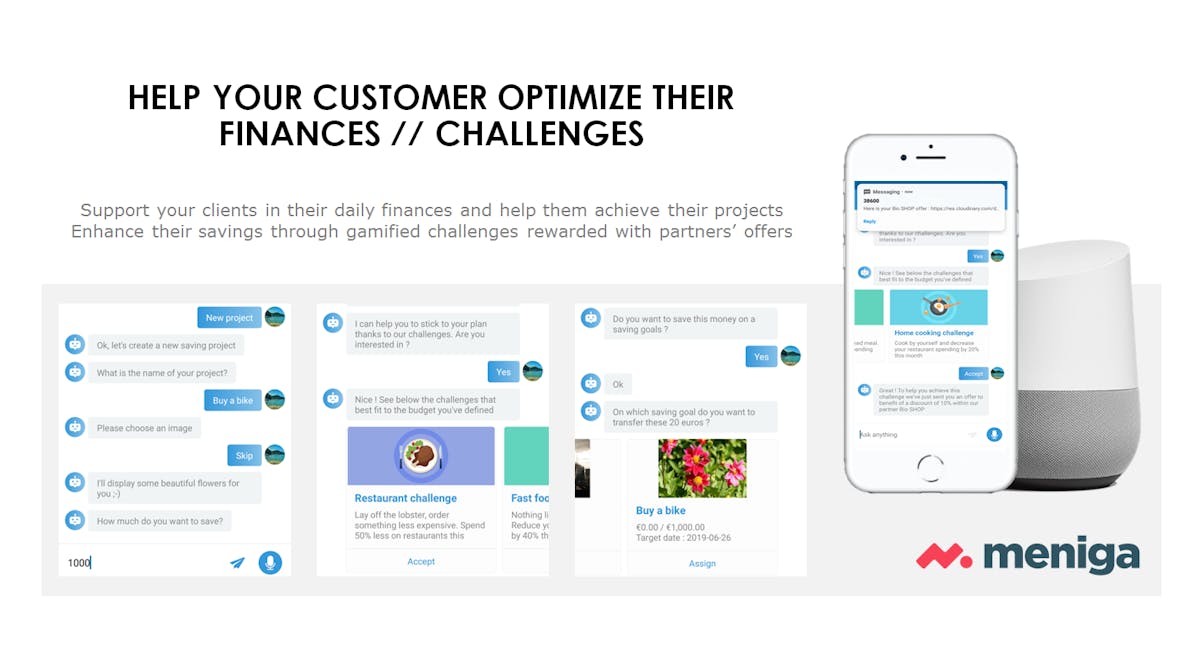 With the implementation of Open Banking, it is no longer just traditional banks that wish to create engaging financial solutions for their customers; businesses operating within telecommunications, insurance, consumer credit, and retail are taking advantage of the opportunity to develop financial products of their own.
Within this developing environment, by collaborating with Meniga (well known for its contribution of broad expertise knowledge on how to categorise transactions and produce valuable financial insights), Worldline aims to elevate its position as a key player in reshaping the payment industry.
"Through its global reach and firm roots in the Financial Services space, Worldline is the ideal partner for us and we are really pleased to have our teams join forces.
With our combined expertise, Worldline and Meniga will be able to deliver on the fast-emerging demand by building solutions that deliver value to customers across all sectors, with products that their end-users love and benefit from in their day-to-day lives."
This unique collaboration will be able to deliver advanced solutions to customers in the Financial Services space, while at the same time gaining more insight into customers' wishes through data analytics. This move is in line with Worldline's mission and commitment to continuously enrich its solutions.
"By mastering the overall payment value chain, we aim to play a key role in the new Open Banking ecosystem including the transformation of the digital customer journeys to bring more value to end customers.
Together with Meniga, we will bring to the market our unrivaled expertise and answer customer's demand for our combined service offering. This partnership also illustrates our ambitions to speed-up the collaboration with start-ups & fintechs to create the services of tomorrow."

About Worldline


Worldline [Euronext: WLN] is the European leader in the payment and transactional services industry. With innovation at the core of its DNA, Worldline's core offerings include pan-European and domestic Commercial Acquiring for physical or online businesses, secured payment transaction processing for banks and financial institutions, as well as transactional services in e-Ticketing and for local and central public agencies.

Thanks to a presence in 30+ countries, Worldline is the payment partner of choice for merchants, banks, public transport operators, government agencies and industrial companies, delivering cutting-edge digital services. Worldline's activities are organized around three axes: Merchant Services, Financial Services including equensWorldline and Mobility & e-Transactional Services. Worldline employs circa 12,000 people worldwide, with 2019 revenue of circa 2.4 billion euros.