Copenhagen, Denmark — 26 JUNE 2017 — Today at Money2020, Meniga announces that Islandsbanki, one of Iceland's leading banks, has deployed Meniga's Card Linked Offer (CLO) program to provide their digital banking customers with personalized and relevant discounts from local merchants.
Meniga's CLO solution utilizes proprietary machine-learning algorithms to identify and forecast consumer spending behavior. Merchants get access to uniquely attractive customer segments that only contain consumers very likely to be interested in their products, consumers get highly relevant and deep discounts served in the context of digital banking, and banks turn costly loyalty programs into new revenue streams while at the same time vastly improving digital engagement.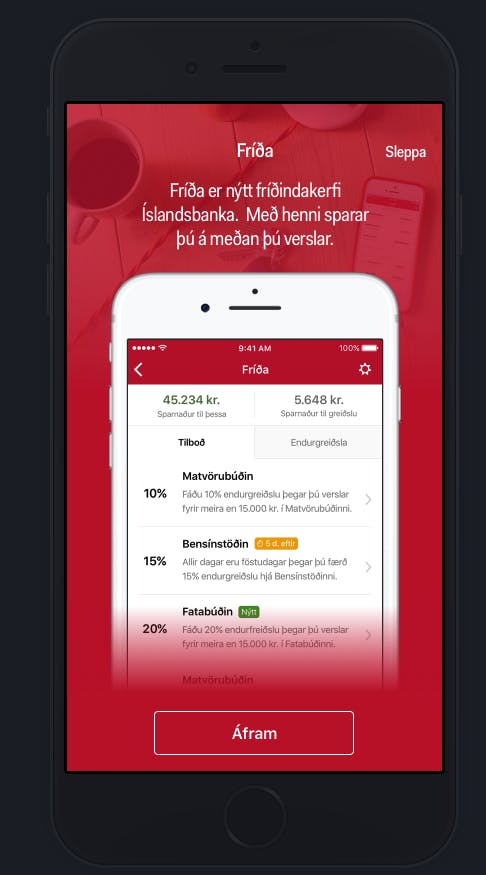 The CLO program is available to all of Islandsbanki's customers and is estimated to reach more than 30% of households in Iceland. The scale makes the program particularly attractive to merchants. The program presently includes offers from a wide variety of businesses — from ready-made food outlets, clothing retail to fuel and travel-agencies, offering deep discounts up to 50%.
While the CLO market is relatively mature in the US, European banks are finally starting to pick up pace. With merchant deals served across Islandsbanki's digital platform as well as Meniga's own B2C personal finance management application, this deployment is Europe's first fully integrated multi-platform card-linked offer program — a great example of the kind of innovation post-PSD2 Europe is likely to deliver.
Bragi Fjalldal, Meniga's CMO & VP Business Development , comments: "As one Iceland's most innovative businesses, it is an honour to partner with Islandsbanki on this latest offering. In order to stay competitive, banks must innovate in their digital user experience as well as in their business model. With CLO, banks do both at the same time by delivering personalized, deep discounts to their customers and building a new source of revenue."
He added: "Most leading European banks have CLO somewhere on their roadmap and they understand there is a clear first mover advantage in this space. With PSD2 around the corner, now is the time to make a move."
Islandsbanki is recognized for its innovation and customer satisfaction, and was among the very first banks in Europe to offer its customers a comprehensive a personal finance solution in 2009 when the bank became the first to deploy Meniga's personal finance technology.
"The past 8 years Íslandsbanki has enjoyed an excellent partnership with Meniga. We truly value Meniga's strive and focus to improve customer digital experience and we look forward to build on our relationship. With the introduction of CLO Íslandsbanki will offer superior value to its customers and retailers. It is a big step for Íslandsbanki to launch a cutting-edge CLO program, strengthening Íslandsbanki's position in payments in an increasingly competitive market", says Sveinbjorn S. Gretarsson, Head of Payments at Islandsbanki.
Meniga has been operating a CLO program in its domestic market for three years, delivering globally-leading metrics in terms of user engagement and offer conversion.
About Meniga
Meniga is a global leader in white-label digital banking solutions. Its award-winning products enable the world's largest financial institutions, such as Santander, Intesa, ING Direct, Commerzbank and mBank, to dramatically improve their online & mobile digital environment, enriching the user experience of over 50 million digital banking users acoss 20 countries. Meniga has developed a framework for next-generation digital banking around advanced data consolidation & enrichment, meaningful customer engagement and new revenue opportunities. Meniga's offices are in London, Reykjavik and Stockholm. Meniga was awarded "Best of Show" at Finovate Europe, in 2011, 2013, and 2015 and was featured on Fintech50 in 2014, 2016 and 2017. Meniga was founded in 2009 and is headquartered in London, UK.
About Islandsbanki
A leader in financial services in Iceland, Íslandsbanki is a universal bank with total assets of ISK 1,029bn and a 25% — 50% market share across all domestic business segments. Building on over 140 years of servicing key industries in Iceland, Íslandsbanki has developed specific expertise in tourism and the seafood, energy industries.
With a dedicated team of 900 employees and a vision of being #1 for service Íslandsbanki prides itself of being ranked first among banks in the Icelandic Customer Satisfaction Index for six out of seven years (2010, 2011, 2013, 2014, 2015 & 2016). The Bank was voted 'Best Bank in Iceland' by Euromoney four years in a row (2013- 2016), by the Banker (2014 & 2016) and 'Best Investment Bank in Iceland' by Euromoney (2014).
About Money20/20
Founded in 2011 and acquired by Ascential plc in 2014, Money20/20 creates destination events where the most innovative people in payments, FinTech and the broader financial services industry connect. Famed for their high-impact networking, the Las Vegas (October) and Copenhagen (June) editions are widely considered unmissable by the industry they serve. The new Asian edition will debut in Singapore in March 2018. Money20/20 is the space where the industry's smartest visionaries and innovators come together to create the future of money. Money20/20 is an Ascential event. www.money2020.com
About Ascential plc:
Ascential is a global business-to-business media company that informs and connects the business world in 150 countries through market-leading Exhibitions & Festivals and Information Services.
Ascential powers the prestigious Cannes Lions festival for the branded communications industry, the world's premier payments and financial services congress Money20/20, Spring Fair/Autumn Fair, the global fashion trend forecasting service WGSN, environmental risk data business Groundsure, e-commerce analytics provider One Click Retail and MediaLink, the strategic advisory and business services firm.
Ascential's premium products enable focus, growth and value. The company provides customers with world class content and connections empowering their businesses to be the best informed and best connected. www.ascential.com