It's clear that in order to make a true impact on Climate Change, governments and businesses have to work together to achieve this common goal. The Singapore branch of The Nordic Innovation House understands exactly this, which is why they brought together 5 Nordic Ambassadors and 5 Nordic business leaders to collaborate the best way to a greener future.
Meniga's Enrique Goizueta, Head of Sales, APAC was one of the speakers in the fireside chat. He was joined by:
Steven Bartholomeusz, Head of Public Affairs — APAC, Neste
Vijay Krishnan, Managing Director — APAC, Rystad Energy
Prianka Christiansen, Regional Sustainability Manager, South & East Asia, Hempel A/S
Corinna Schuler, Corporate Communication & Acting Sustainability Director, IKEA Southeast Asia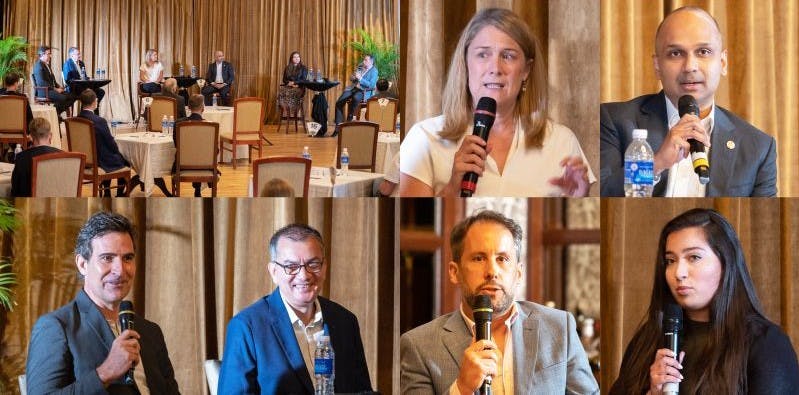 Key takeaways
The Nordic experiences and challenges in building a sustainable future
International co-operation in the environmental footprint agenda
Nordic innovations addressing carbon footprint that are relevant for Singapore and Southeast Asia
The Nordic Ambassadors
The attendance from the ambassadors was just as impressive, with representatives from Iceland, Finland, Norway and Denmark and Sweden all present. This panel included:
H.E. Sigríður Ásdís Snævarr, Ambassador of Iceland to Singapore, Iceland
H.E. Antti Vänskä, Ambassador of Finland to Singapore, Embassy of Finland
H.E. Eivind Homme, Ambassador of Norway to Singapore, Royal Norwegian Embassy
H.E. Sandra Jensen Landi, Ambassador of Denmark to Singapore & Brunei, Embassy of Denmark
Harald Fries, Chargé d'affaires to Singapore, Embassy of Sweden

About Nordic Innovation House
Nordic Innovation House gives Nordic companies, from startups to corporations, a head start in the most relevant global innovation hubs. By offering a strong community, connections to the local ecosystem, and programs for acceleration, startups can hit the ground running.