At Meniga, February is Finovate-month and one of our favourite months of the year. This year, we will be unveiling our latest innovation in digital banking. Check out our demo on day 1, session 4!
Finovate has a special place in our hearts and culture at Meniga. It is where we meet our fellow fintech friends and influencers and share our latest innovations.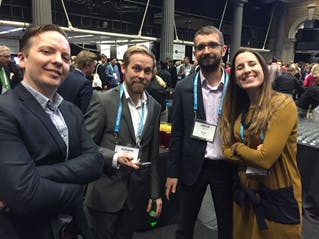 We've had the honour of being awarded "Best of Show" in 2011, 2013, and 2015. This year will be our 7th year in a row attending the event and presenting on stage.
For our team, Finovate events have always been a great opportunity to come together with our clients, partners, friends, media, analysts and of course Fintech gurus. We also meet many of our current customers at Finovate as many of them visit every year.
The event has a unique blend of short and demanding demos and informal networking sessions each day. The format is challenging; 7 minutes of pure demo, meaning presenters need to be concise but interesting. You have just 7 minutes to convince the people in the audience to cast their vote for your innovative and unique product.
Last year, Meniga presented Dialog — a data-driven engagement platform that enables banks to create personalised engagement and marketing campaigns.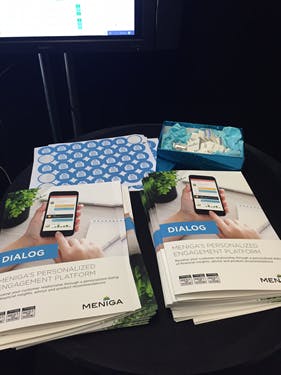 This year, we will be presenting Meniga Challenges — our latest innovation in personal finance user experience, designed for banks to build meaningful engagement with their customers. We can't say too much at this point but for now let's just say we are definitely staying true to our mission of helping people lead better financial lives.
If you want to know more then check out our demo and latest innovation tomorrow, 7th of February, session 4, and come meet us at our booth for a more in-depth view. Looking forward to seeing you all there!
Follow Meniga on Twitter for more updates: https://twitter.com/meniga.