PRODUCT PROFILE
Financial Management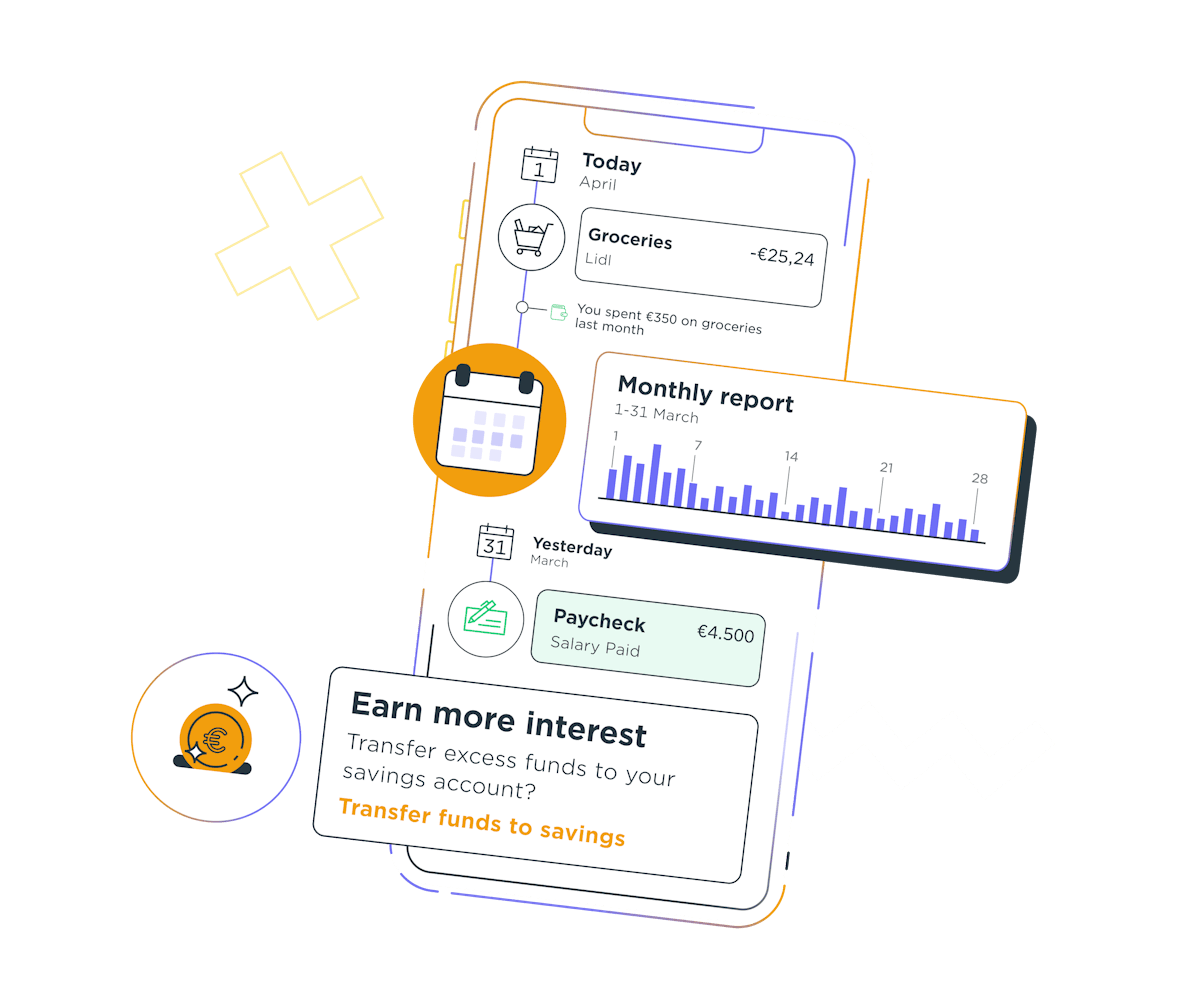 See how Meniga can help your digital bank
+ Financial coach for Banking Customers
+ Increase Digital Engagement
+ Upsell & cross-sell Products
The digitalisation of banking, the emergence of younger generations into the banking sector, and the cost-of-living crisis have established the need for effective personal finance management (PFM) solutions.
Challenger banks have already set the standard for engaging digital banking UX and are moving at a fast pace to offer innovative PFM solutions to customers, threatening to leave incumbent banks behind. However, banks have clear advantages over other financial institutions that will help them outperform.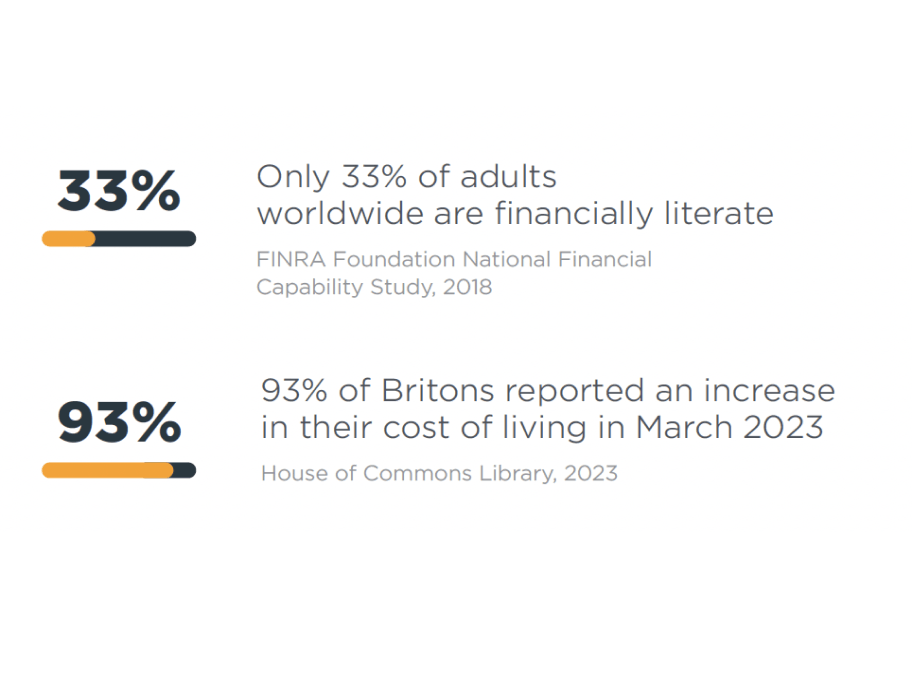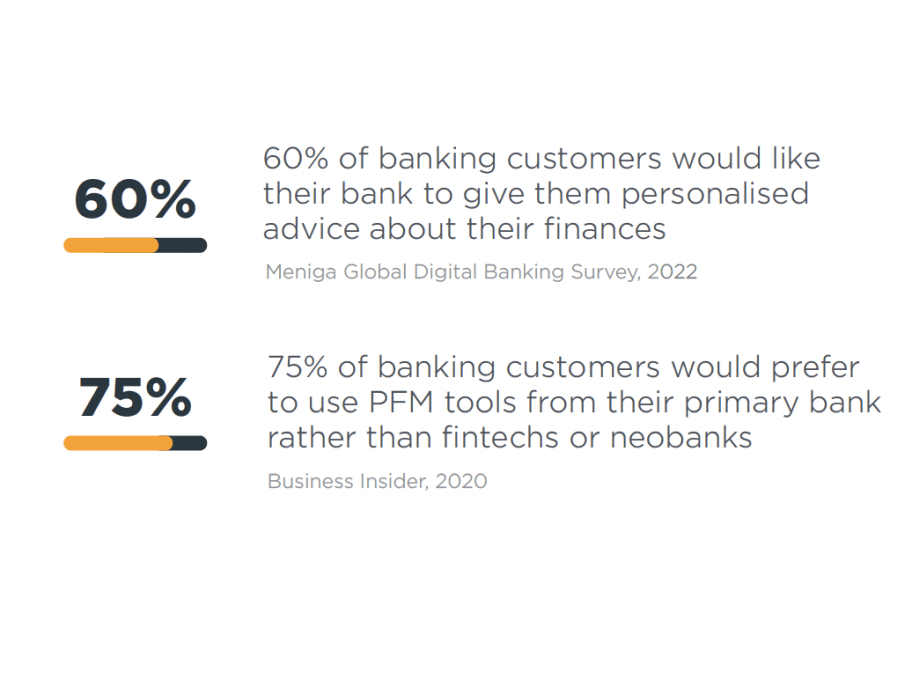 First, banks have a long-standing relationship with their customers and have gained their trust over time. During times of uncertainty, customers would rather rely on their primary banking provider rather than take the chance on a neobank.
Second, banks have the resources available to create a highly personalised PFM experience. The vast amount of transaction- and open banking data banks have at their disposal allows them to tailor the solution to the customers.

Meniga is on a mission to improve people's financial lives by creating long-lasting healthy financial habits.

For the past decade, we have perfected highly engaging PFM solutions that build trust and loyalty through a delightful customer experience.

We're obsessed with creating tangible
results for 
both banks and their customers.
For Banks
49% increase in monthly active user base
200% increase in time spent in app
24% increase in app sessions
70% increase in new product uptake
50% reduction in Cost per Acquisition
For Customers
Customers who engaged with Meniga functionalities saved an extra €271 per year
Meniga's own B2C PFM app has a steadily high NPS score, reaching a high of 59
Results from prior implementations*

Meniga offers a variety of modules that empower
your customer to take control of their personal
finances, such as:
Financial insights & reports
Reports and personalised financial insights provide an easy-to-consume overview of one's finances, regardless of the the level of user financial literacy.
Income and expenses broken down into categories and sub-categories
Easily adjustable time periods to see how spending evolves over time
Merchant information including top merchant reports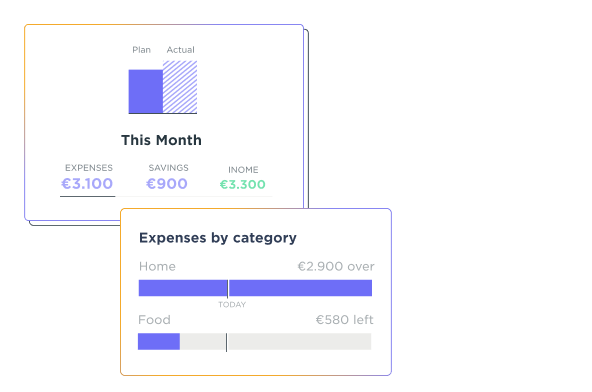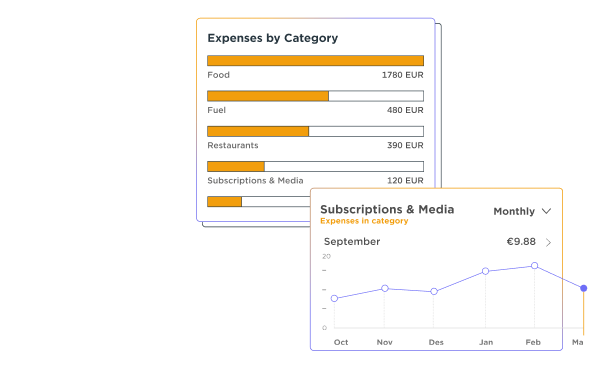 Financial planning & budgeting
Meniga provides pain-free budgeting for everyday users to keep track of their spending while enabling more advanced financial planning for those who want to plan for their future.
Automatic income and expense projections
Auto-calculated budgeting on a sub-category level
Ability to flag certain categories as "watched"
Tags & comments
Allow users to personalise their transactions by enabling commenting for further contextualisation or even tagging transactions across categories. ​
Advanced search
Customers can instantly find any transaction with a powerful Google-like search functionality – whether searching by merchant name, account, category, or even date range. Auto-complete ensures an effortless user experience.