Increase Digital Engagement
& Revenue with
Green Banking Solutions
69% of customers want their Bank to provide insights into their Carbon Footprint. Partner with Meniga, global leader in Digital Banking software, to implement a Carbon Footprint solution in your banking app that is proven to drive digital engagement, increase the selling of green products & strengthen ESG.
Schedule a call
We solve problems

Meniga understands that banks are faced with many challenges like keeping customers engaged, long implementation cycles, and upselling and cross-selling products in their digital bank.
Drive Digital Engagement
Meniga's Carbon Footprint solution has seen 30-40% of mobile customers opt into the service.
Develop Revenue
Meniga's Carbon Footprint service is designed with up-selling & cross-selling in mind - what better way to introduce green banking products?
Boost Loyalty
78% of banking customers who have opted-in to Meniga's Carbon Footprint tracker, return and engage with the service regularly.
Award-winning Solutions for Banks
Carbon Footprint
Solution
Meniga's Carbon Insight is a sustainable and cloud-based solution that uses spending patterns to enable banking customers to track & offset their carbon footprint. The solution is one of the most accurate in the world and can be implemented in as little as 3 months onto any banking app.
Engagement for growing segments
Upsell & Cross-Sell green products
Strengthen ESG/CSR & sustainability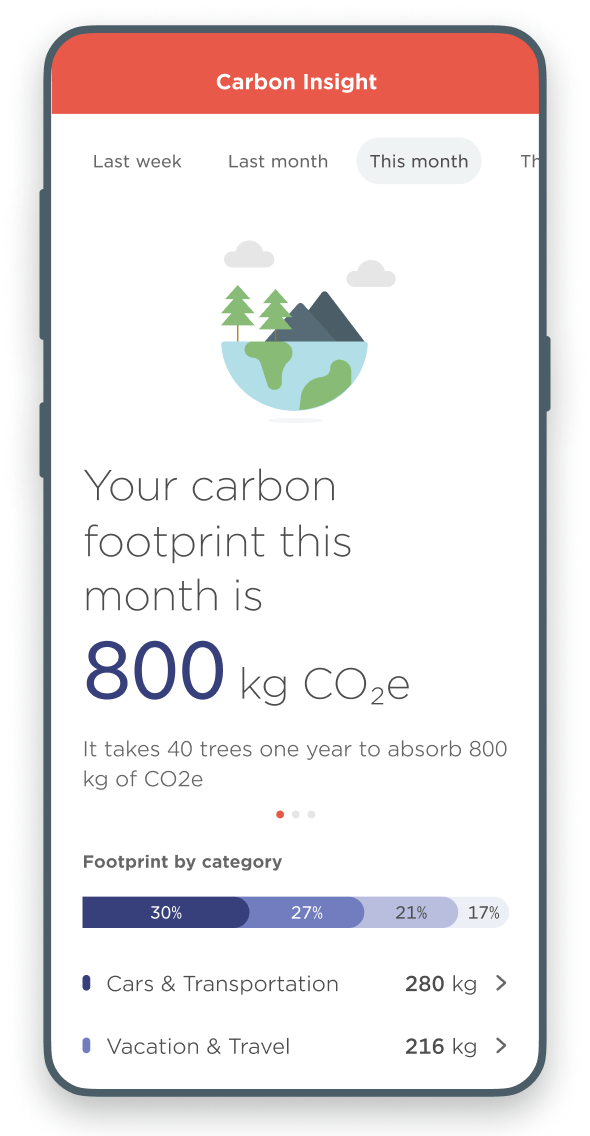 See Carbon Insight in action