Business Finance
Management
Help your SME customers take care of their finances so they can focus on their business.
Speak to an expert
Finance Management
Help your SMEs reach their true potential and provide them with a digital bank that works for them. Meniga's BFM offers advanced but simple tools for your SMEs to easily implement.
Aggregate overview of company finances
Expense reports at your fingertips​
Accurate cashflow projections​
Overview of recent and upcoming transactions​
Insights, nudges and product recommendations​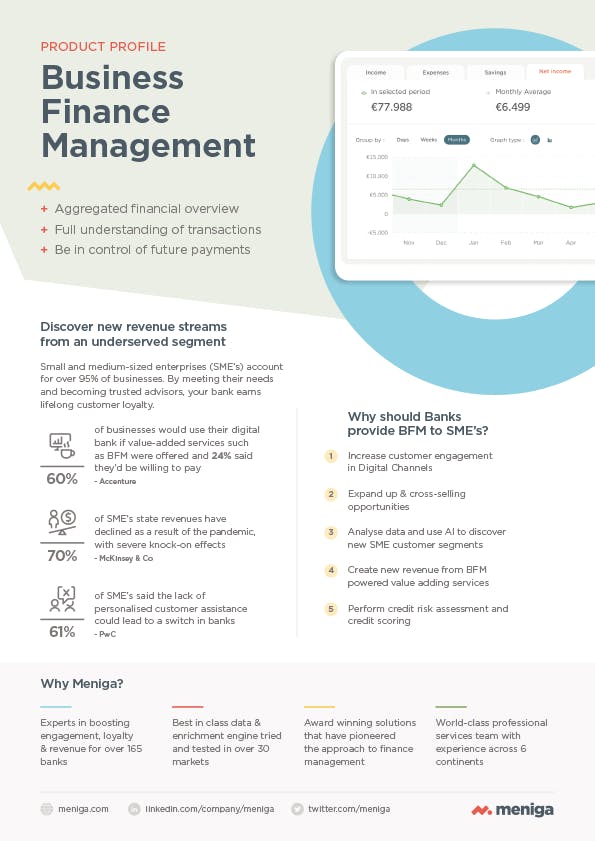 Business Finance Management
BFM helps your bank discover new revenue streams from a commonly underserved segment.
Through our flexible API, combine all accounts in one view. Regardless of currency, product, integration model, or the account provider.
24/7 access to real-time transactions from all accounts and all banks​
Full Open Banking support and ability to accommodate for any additional dimension
Flexible engine capable of handling any AP/AR data - and reconciliating it in real-time​
All transactions going through an instant enrichment and insights generation process
Schedule a call
Get to know more about
our Finance Management products