Cashflow Assistant
Understanding how money flows in and out of your accounts is crucial for finance management. Cashflow Assistant not only helps your customers understand their balance history but can also project future cash flow.
Speak to an expert
Finance Management
Cashflow Assistant provides solutions to every type of customer, from those who struggle to stay on track, to those who have a surplus.
Builds awareness on which expenses and incomes are recurring
Shows how much of their expenses are recurring
Helps pay bills on time by notifying payment due dates
Alerts when finances are likely to run dangerously low
Helps find opportunities to save by distinguishing non-recurring, varying expenses from recurring, inevitable ones
Balance projection of an account or group of accounts
Detecting transactional patterns within user's transaction history
Match actual transactions to predicted payments (reconciliation)
Notifications and user events that keep users aware of what is ahead of them financially
Hide functionality allowing users to play a "what-if" game and see how resigning from certain expenses would affect their future finances
Speak to an expert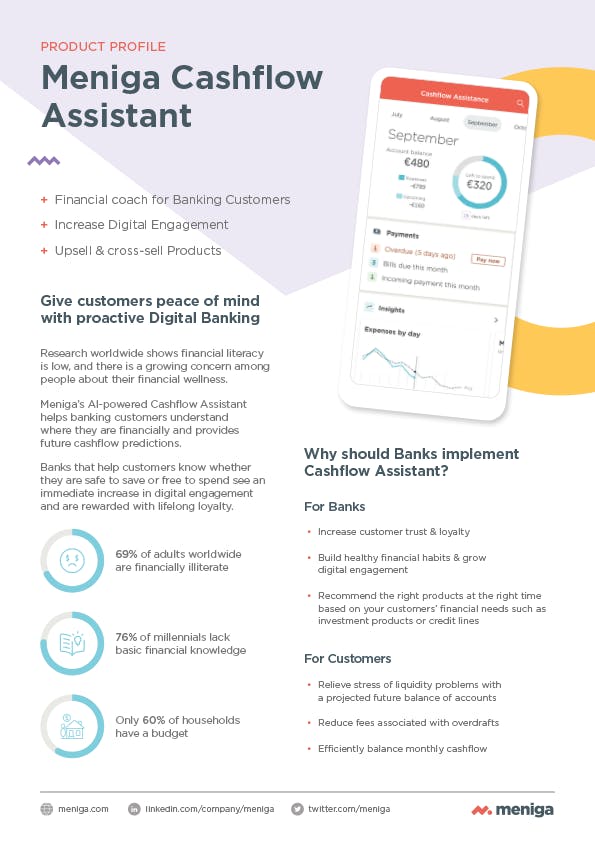 Cashflow Assistant
Provide your customers with a personal financial coach that can help them with their everyday finances.  
Identify & tag known recurring transactions from scheduled payments, invoices and account payables & receivables
Use Meniga's machine-learning algorithms to predict & reconcile recurring transactions
Engage customers in confirming upcoming transactions, connecting more data and providing comprehensive overviews​
Trigger notifications to provide timely reminders and warnings and pitch the right products and the right time​​
Get to know more about
our Finance Management products